Welcome to the Barwon River Fishing Guide. The Barwon River is a diverse system in Victoria with a great variety of species that stretches for 160 kilometers. The river starts in the Otway ranges near the townships of Winchelsea, then flows through the township of Geelong along the Bellarine Peninsula passing coastal towns including Ocean Grove before going out to sea at the Bass straight adjacent Barwon Heads. The river is home to many species of birds, fish, eels, rats wallabies, and platypus. 15 different creeks and rivers flow into the Barwon River with Lake Connewarre and Moorabool the most notable.
BECOME A FISHINGMAD MEMBER AND UNLOCK ACCESS TO
Workshops | Giveaways | Podcasts | Competitions | Forums | Reports | Maps | GPS Marks | Rigging Tutorials | Sounder School | Exclusive Footage | Tackle Talks | Gear Guides | Kayak Club | Much More

Things to do on Barwon River
The Barwon River passes through rural townships including Geelong and Ocean Grove along the Bellarine peninsula before going out to see the Bass straight. Along the Barwon River, you can enjoy a picnic at the riverside, camping on the river, Queen's Park, and views at Buckley Falls. Native birds at Balyang Sanctuary and Barwon Valley Adventure Playground for the kids. There are many walks, parks, wetlands, golf courses, gardens, and fishing platforms. Things to do in townships along the river included. Geelong is located 70 kilometers away from Melbourne with many shops, parks, piers, restaurants, cafes, and adventures. Some of the local attractions include the Geelong Botanic Gardens or if you're after a bit more excitement the Geelong Adventure Park which has rides and waterslides. Serendip Sanctuary closer to Lara offers access to Australia's wildlife and gardens. The Geelong waterfront area is a vibrant spot with piers, walking tracks, and picnic grounds.
Barwon Heads is a 90 minute drive from Melbourne with surrounding townships off Ocean Grove and Queenscliff. This area is renowned for its clean beaches and is popular with holidaymakers on school holidays. Swimming, paddle boarding, kayaking, snorkeling, and fishing are prime activities here. 13th Beach offers great surfing with waves coming directly from the Bass Straight. In town, there is also stand-up paddle boarding hire available, many cafes, restaurants, and parks to keep the family busy. Or skydiving and scenic flight tours in surrounding townships.
Fishing the Barwon River
Barwon River Fishing Guide. The Barwon River is a diverse fishing ecosystem with a wide variety of species to target. As the river is 160 kilometers long it changes dramatically and from a fishing perspective can be broken up into 3 different sections. The saltwater areas near the entrance are close to the townships of Barwon heads. Here you will catch species like Trevally, mullet, salmon, whiting, snapper, flathead, and gummy sharks. Then you move into the estuary area where the saltwater and freshwater meet. Here you can target bream and mulloway. Followed by the freshwater sections from the township of Geelong and beyond where you can catch redfin, estuary perch, cod, and trout.
We will break this up into 3 different sections the lower freshwater reaches around Geelong and beyond, the estuary system where the salt and freshwater meet and the upper reaches closer to the mouth entrance which has estuary species.
Watch as Al battles some epic fish at the Barwon River entrance
Fishing the Barwon River ( saltwater entrance )
The Barwon River entrance feeds off the bass straight and runs through the popular townships of Barwon Heads and Ocean Grove. This area gets a good flush of water from the offshore tides and holds a good concentration of trevally, tailor,  yellow-eye mullet, Australian salmon, king George whiting, snapper, flathead, and gummy sharks. This is a great stretch to fish land base along sheepwash road,  you can catch countless of them using small hooks. You will also find trevally, flathead, gurnard, pinkies, bream.  The best baits include bass yabbies, scrub worms, pilchards, pipis, blue bait, and raw chicken. You will also have great success here flicking small and lightly weighted soft plastics and using scent sparingly to encourage bites.
Looking for some tips on how to catch whiting. Then watch our detailed Whiting Barwon River Fishing Guide guide below.
Rare trophy fish along these stretches will include Mulloway, Snapper, and Elephant fish. They are significantly harder to catch, and often more active at night seasonally. They can be caught using larger baits such as whole pilchards and bigger soft plastics such as 5-inch jerk shads or swimbaits.
Fishing the Barwon River ( estuary )
This section is the stretch between the townships of Ocean Grove and Geelong feeding past Lake Conewarre. Access to these areas can be quite tricky however there are some awesome fishing opportunities due to the lower volume of fishing pressure. In these stretches, you can catch bream, mulloway, many bay trout (juvenile salmon ), yellow-eye mullet, estuary perch and trevally. It's a strange area to fish as you can catch both saltwater and freshwater species here. There are some large mulloway and trevally in this area and its a good idea to concentrate your time on any visible structure and deeper pools.  Bream can be very finicky in these sections, so fishing very very light with soft plastics and lures or using live bait like scrub worms and maggots can work really well.
Fishing the Barwon River ( freshwater sections )
The freshwater reaches provide great fishing for redfin, estuary perch, and carp. You can also catch trout, eels, and tench. The freshwater section starts before the township of Geelong and stretches for over 100 kilometers to the township of Winchelsea. Most of our fishing here has been done around Geelong and surrounding areas.The VFA has done an outstanding job stocking 113,000 estuary perch in 2021. In years to come this will become an outstanding estuary perch fishery as these fish settle and grow.
The fish in the freshwater sections can be targeted with both bait and lures. Those fishing with lures have done this flicking along the banks or trolling in a small boat or kayak. We like using bright-coloured soft plastics and shallow diving lures which stand out in the brownish water. Redfin in winter will hold the middle of the river in deeper areas and in summer hold against the reeds and shallows. Why not have a read on our detailed guide on the best lures to catch redfin. Good bait options include scrub worms, mudeye, crickets, yabbies, and corn.
Watch our video fishing the Barwon River for redfin, estuary perch, and carp
Huge carp are caught regularly in the Barwon River around Geelong. These can easily be targeted by fishing the banks and using corn, bread or worms as bait. We would suggest using heavier fishing gear due to the sheer size that some of the trout can grow to. If you would like to learn more about catching carp then please read our guide on mastering carp fishing.
Eels are a common catch particularly when it's dark. Some meet and worms on a small hook have been a sure way to catch a few of them.
Barwon River Boat and kayak access
There are two ramps along the river. The first is a ramp, at Ocean Grove accessible on Guthridge Street. The other is on the Barwon Heads side on River Parade accessed on Sheepwash Road.
Recommended baits Barwon River
Scrub worms
Powerbait
Yabbies
Mudeye
maggots
Recommended lures Barwon River
Zman 2.5 inch grub
Gulp 3 inch minnow
Bluefox spinners
Daiwa DR joint minnows
Jackall Micro Tappy
Tiemco Cicada
Daiwa Bait Junkie 2.5 inch grub
Berkley powerbait grub
Daiwa Presso minnows
Tasmanian Devil Blade
Bullet lures 5-0 minnow
strike tiger nymph
Nories Wasabi spoon
Rapala countdown floating minnow
Pontoon 21 paco spoon
Daiwa Double Clutch
Tasmanian Devil lure
Dawia Bait Junkie paddle tail minnow
Zerek fish trap
eco gear ZX40
Squidges biotough grub
Targeting Redfin at Barwon River
We recommend targeting redfin with a light spin outfit. This will make the experience more enjoyable and improve your catch rates. A 1-3 or 2-4 kilo fishing rod coupled with a 2000, 2500 or 3000 reel spooled with 4-8-pound braid and equivalent fluorocarbon leader should be perfect. Redfin respond really well to lures and soft plastics so do check our guide on the best lures for catching Redfin When using soft plastics, we highly recommend curl tails, minnow imitations, and paddle tails in both natural and bright colours. Rigged with a jig head that's 1/8 through to 1/20 in weight. The most effective way to use these is to cast towards visible structure and slow roll the soft plastic with lifts and pauses for the retrieve.
Shallow diving hard body lures, blades and vibes are also very effective in this system. So are traditional spinners and Tassie devils in bright colours. Metal spoons also play a role allowing you to cast great distances and target the bigger size reddies. Just remember they are quite heavy and very prone to snags in small inland systems like this one.
Watch our detailed video guide on our top 10 redfin lures below
Targeting Trevally at Barwon River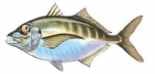 Trevally pound for pound is one of the best fighting fish. In certain parts of Australia surface popping for Giant Trevally is one of the bucket list fishing experiences that you must tick off. However, in Victoria, you will mainly be catching the much smaller silver trevally. Good bait options include blue bait, whitebait, raw chicken, pilchards, pippies, squid, and mussels. Trevally will also take a range of soft plastics including worm and minnow imitations, small surface poppers, and small metal spoons. We recommend targeting trevally with a 1-3 or 2-4 kilo fishing rod coupled with a 2000, or 2500 reel spooled with 4-8-pound braid and equivalent fluorocarbon leader. If there are larger trevally in the area then you can go heavier moving up the scale to a 3-5 kilo class spin rod spooled with fine 8-12-pound braid and equivalent fluorocarbon leader.
Targeting Estuary Perch at Barwon River
Another highlight of fishing at Barwon River is targeting the Estuary perch with surface and shallow diving lures. The action can be frantic on warm balmy evenings with low wind. listen for the sound of breaking water which indicates EPs are feeding. The excitement an angler gets from an EP smashing a surface lure on light gear is something that truly needs to be experienced. It almost catches you by surprise when that aggressive strike comes. Small surface poppers, cicadas, blades, surface minnows, and pencil lures work well here. So do shallow diving hardbody lures. Noteworthy options include bent minnows, Rapala countdown series, nories laydown minnows, and shallow diving cranks. Basically, anything that doesn't dive too deep and makes a good vibrating action will work well. You can use any colour choice we often start with silvers that mimic small baitfish or mullet.
EPs also respond incredibly well to a whole range of soft plastics lightly weighted. Including curl tails, paddle tails, and minnow imitations. The trusty 2.5-inch grubs and minnows are an excellent choice. These imitate small baitfish which the EPs are actively feeding on. We would recommend mixing up the retrieval speeds and pauses and playing around with different colours. Where possible fish along the structure and stay alert for signs such as breaking water. Fishing for Estuary Perch requires finesse. We recommend an ultralight fishing combo consisting of a 1-3 or 2-4 kilo spin rod around 7 foot in length. Coupled with a 1000 or 2000 size reel spooled with 2-8 pound line and equivalent fluorocarbon leader. When bait fishing uses a 2-4 kilo rod around 7 feet in length. Coupled with a 2500 size reel either a float or small running sinker to a swivel and very fine leader.
Targeting Carp at Barwon River
Learn more about catching carp by reading our detailed guide to carp fishing around Victoria. Standard baits such as corn, bread, and maggots work great on a simple running sinker rig with a pea-size sinker or suspending baits using a float as shown below. You can also target carp with hard body lures and soft plastics. This is a difficult technique that generally requires sight casting. This means spotting a nearby carp casting right in their area and working the lure of plastic slowly hoping they will strike. It's tough but very rewarding when you catch a carp using this method.
For rod selection, a 3-5 kilo rod coupled with a 4000 size reel is very suitable. For fun, I have caught big carp using 2-4 kilo rod and 6-pound braid. Carp are best targeted on sundown, particularly in the warmer months. This is often when you see carp swimming along the edges or jumping out of the water between September-November which is their spawning season. European carp must not be returned to the water. Always carry your Victorian fishing license.
Thread a small running sinker through the mainline shown in blue. Then tie a medium swivel to the end allowing the sinker to run up the mainline freely. Then tie on 50cm of 8-pound fluorocarbon leader (leader is shown in grey ). Finished with a size 6 bait keeper hook or size 10 long shank which is perfect for corn kernels or scrub worms.
You can also use a float rig. Thread the line through and adjust the length using a size 6 bait keeper hook or size 10 long shank to keep your bait suspended at a good depth. Ideally cast down breeze which will stop the float from coming back to you. If you're not getting bites then adjust the line depth and If necessary add a splint shot to add weight.
Barwon River Fishing Summary
The Barwon River holds a large volume of snakes, particularly tiger snakes so do take care in these areas. I have encountered these many times walking along the populated walking tracks or along the river edge. There is a river health program in progress. Rock-ramp fishways have been installed at Baum's Weir, Buckleys Falls, Lower Breakwater, Pollocksford Weir, and Ricketts Marsh gauge. Willow management, revegetation with native species, and erosion control are also in progress.
Images of fish supplied VFA and DEPI. All images and videos shown on the Barwon River Fishing Guide are Fishing Mad originals.
Thanks for reading our Barwon River Fishing Guide. If you feel this location guide is missing key information or needs any corrections made, then please let us know by emailing our team at enquiries@fishingmad.com.au with specific details in the email. Please also feel free to share any fishing pictures you have from this location with us. Thank you