Welcome to the Karkarook Park Fishing Guide. Karkarook Park is a terrific urban fishing location near Moorabbin located on the corner of Warragul road and Fairchild street. "Karkarook" is an Aboriginal term meaning "a sandy place. This is a great family location 40 minutes drive from Melbourne which has scenic views, picnic grounds and 6 kilometres of trails perfect for walking and cycling. This 15-hectare artificial wetland is popular for canoeing, kayaking, sailing and freshwater fishing for the whole family. It's a great fishing destination for families and beginners because the lake is stocked with trout fingerlings frequently during school holiday programs. The lake also holds a healthy population of Redfin. 
**BECOME A FISHINGMAD MEMBER** Exclusive Fishing Workshops, Exciting Monthly Giveaways, In-Depth Fishing Reports with GPS Coordinates, Members Podcast, Interactive Maps, Catch of the Month Competitions, Kayak Club, Gear Guides, Rigging Tutorials, Tackle Talks, Sounder School, Fishing Tips, Fish Cleaning tutorials, Behind the scenes content & more.
Things to do at Karkarook Park
Karkarook Park is a great spot for the whole family. It has BBQ facilities, picnic tables and an adventure playground ideal for young kids and toddlers. This is a scenic location with 6 kilometres of walking trails which are reasonably flat and pleasant for most. Over 500,000 trees, shrubs and grasses have been planted in recent years by volunteers.  This is a nice location for duck and bird watching with over 110 different bird species recorded at the park. It's also a great place to bring the dog with designated off-lead areas and on-lead walking trials. The lake is a great location for freshwater fishing. Make sure you bring the kids as 2000 trout yearlings are stocked just prior to each school holiday break.
There is plenty of free parking with 3 parking zones from the Fairchild road entrance opposite Bunnings Warehouse. Nearby attractions include some of Melbourne's elite golf courses including Commonwealth, Huntingdale, Yarra Yarra, Kingston Heath, The metropolitan and the Capital. Close by there are also netball courts, football grounds, a local shopping centre and Caribbean gardens market. Also a short drive away from Tirhatuan park, Kokoda trail memorial walk, Lysterfield park and Jells Park.
Watch our detailed video guide on our top 10 redfin lures below
Fishing at Karkarook Lake
Karkarook Lake is a great fishing location where you can target several freshwater fish species. This includes trout, redfin, estuary perch, eels and carp. Recently also Murray Cod. This lake is regularly stocked with rainbow trout prior to each school holiday break. In recent years 2,000 rainbow trout yearlings have been released into the lake each school holiday term. That's a whopping 8,000 trout yearlings every year. Use this link to follow Victorian trout stocking programs. The state government has also started trailing the release of Murray cod and golden perch yellow belly as part of the target 10 million by 2022 native fish stocking program. In 2019 they released 50 Murray cod 40 cm in length and 200 golden perch 30cm in length. 
Small redfin and stocked trout will be your main catches from this lake. Either fished land-based from the banks or by kayak and non-powered vessels. Most freshwater species tend to feed more aggressively at Dawn and Dusk. Species like perch fish particularly well during sundown in the warmer months.
14,000 yellow belly stocked into Karkarook Lake
On 18th December 2019 Victorian Fishing Authorities proudly released 14,000 yellowbellies into Karkarook lake. This is an amazing initiative part of the target of 3 million by 2022 that should provide amazing fishing opportunities for families in years to come. We hight recommend practising catch and release fishing where possible to allow these stocked fish to grow and flourish.
How to catch fish in Karkarook Lake
When targeting freshwater species such as trout, redfin and estuary perch we recommend fishing with a light spinning rod. This will make the experience more enjoyable and improve your catch rates. We suggest a 1-3 or 2-4 kilo fishing rod. Coupled with a 2000, 2500 or 3000 size reel that's been spooled with a decent quality braid between 4-8 pound. Then finished with roughly a rod length of a quality fluorocarbon leader.
If you plan to fish with bait from the banks then good options include powerbait in bright colours, worms, maggots, live minnows and mudeye. Either on a light running sinker rig, paternoster rig or suspended from a float. We have seen many trout and perch caught using these baits and methods. A simple yet effective fishing rig here is to thread a small running sinker through the mainline shown in blue, which is usually around 8 pounds. Then tie a medium swivel to the end allowing the sinker to run up the mainline freely. Then tie on the other end of the swivel 50cm of 8-pound fluorocarbon leader (the leader is shown in grey ). Finished with a hook. I generally use a size 6 bait keeper hook or size 10 long shank which is perfect for corn kernels or scrub worms, however, you can also use small treble style hooks which is a better setup if you using bread.
Karkarook Park holds freshwater fish that will actively take lures and soft plastics. We recommend using small curl tails, minnow imitations, and paddle tails. Both natural and bright colours work well rigged with jig heads from 1/8 through to 1/20 in weight. Small shallow diving hard body lures are also very effective in this system. As are old favourites such as spinners and Tassie devils. Ideally in smaller sizes and nice bright colours. Check out our guide on the Best lures for catching Redfin
Metal lures and spoons are also an option. Allowing you to cast great distances and target slightly bigger fish. But they are quite heavy and very prone to snags in small inland systems like this one. You may also consider using surface lures for estuary perch, especially during dawn and dusk. A couple of good options include floating minnows and surface poppers in smaller sizes. If you plan on targeting carp from the banks then we would recommend using corn kernels, worms or bread as good bait options. Either on a basic running sinker rig or suspended from a float. It would also be wise to upgrade your fishing outfit to something a little heavier. Perhaps a 3-5 kilo fishing rod coupled with a 3000 size reel spooled with 8 pound line is a good starting point.
Recommended baits Karkarook Park Lake
Scrub worms
Powerbait
Yabbies
Mudeye
maggots
Recommended lures Karkarook Park Lake
Bluefox spinners
Daiwa DR joint minnows
Daiwa Bait Junkie 2.5 inch grub
Savage Gear minnow blade
Jackall TN50
Berkley powerbait grub
Daiwa Presso minnows
Tasmanian Devil Blade
Bullet lures 5-0 minnow
Bassman spinner bait
Bullet lures 3cm lure
strike tiger nymph
Nories Wasabi spoon
Rapala countdown floating minnow
Pontoon 21 paco spoon
Daiwa Double Clutch
Tasmanian Devil lure
Gulp 3 inch minnow
Zman 2.5 inch grub
Daiwa Bait Junkie paddle tail minnow
Zerek fish trap
eco gear ZX40
Savage Gear Fathead crank shallow diving
Squidges biotough grub
stump jumpers S3
Targeting Trout at Karkarook Park Lake
We would highly recommend that you read our detailed guide on how to catch trout which details our favourite lures, baits and techniques. You can follow trout stocking timelines by reading the Victorian trout stocking guide as part of the target 1 million by 2020 and 10 million by 2022 initiatives. When targeting trout with lures we recommend using shallow diving hard body minnows, metal spoons, spinners, Tassie devils and soft plastics which are also very effective on trout. If your bait fishing, then Mudeye, scrub worms, power bait, yabbies and minnows suspended from a float or a running sinker rig are great options when targeting trout at this location. Trout are more active in cold conditions with most catches on the first and last light of the day.
We recommend targeting trout with a 1-3 or 2-4 kilo fishing rod coupled with a 1000, 2000, or 2500 reel spooled with 4-8-pound braid and equivalent fluorocarbon leader. If there are larger trophy size trout around than you can go heavier moving up the scale to a 3-5 kilo class spin rod spooled with fine 8-12-pound braid and equivalent fluorocarbon leader.
We conducted a test to see which would perform better for stocked trout powerbait or lures. Watch the video below to find out the results which were interesting.
Targeting Redfin at Karkarook Park Lake
We recommend targeting redfin with a light spin outfit. This will make the experience more enjoyable and improve your catch rates. A 1-3 or 2-4 kilo fishing rod coupled with a 2000, 2500 or 3000 reel spooled with 4-8-pound braid and equivalent fluorocarbon leader should be perfect. Redfin respond really well to lures and soft plastics so do check our guide on the best lures for catching Redfin When using soft plastics, we highly recommend curl tails, minnow imitations, and paddle tails in both natural and bright colours. Rigged with a jig head that's 1/8 through to 1/20 in weight. The most effective way to use these is to cast towards visible structure and slow roll the soft plastic with lifts and pauses for the retrieve.
Shallow diving hard body lures, blades and vibes are also very effective in this system. So are traditional spinners and Tassie devils in bright colours. Metal spoons also play a role allowing you to cast great distances and target the bigger size reddies. Just remember they are quite heavy and very prone to snags in small inland systems like this one.
Targeting Yellowbelly at Karkarook Park Lake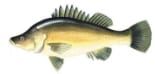 Yellow belly AKA Golden Perch is a beautiful freshwater fish found in this system. With a rich food source available the yellowbelly here grow too thick and plump sizes. Good lure choices include curl tail soft plastics with the zman 2.5-inch grubz and Gulp 3-inch grub minnow both in black are standout choices. Soft vibes such as the Zerek fish trap, Jackall transams and Samaki vibelicious are great options. lip-less crank-baits such as Jackall TN50 and TN60 continue to be very popular so do blades such as the eco gear ZX40 with stinger hooks. Other favourites are reliable stump jumpers, spinnerbaits, bassman spinners, and large grub style soft plastics in dark colours.
Soft plastics are worked best on a 1/8 or 1/4 jig head slow-rolled along any structure. This works particularly well when tying your boat or kayak up against trees and working the soft plastic slowly up against the tree and adding some noise to the action by tapping the butt of your rod or by hitting the jig head into the timber. This brings out the predatory nature of the yellowbelly. Take advantage of down scan and side scan technologies on your sounder and spend some time moving between the structure to find the fish. Other lures can be worked amongst the timber but in general work really well in open water being slow-rolled or trolled.
When it comes to rod selection we generally use a light spin rod around 7 foot in length in 1-4, 2-4 or 3-5 kilo class paired with a 1000, 2000 or 2500 size reel. Spooled with 8-12 pound braid and an equivalent fluorocarbon leader. Baitcaster rods and reels are a very popular choice when targeting yellowbelly. Good options include a 3-5 or 4-6 bait caster with a 2000 bait caster reel. When bait fishing a 7 foot light rod paired with a 3000 size reel. Good bait rigs would include a paternoster rig with a small sinker at the bottom or a running sinker rig with scrub worms or yabbies.
Targeting Murray Cod at Karkarook Park Lake
Murray Cod is Australia's largest freshwater fish that grows to impressive sizes. Cod are ambush predators that love the cover of structure so make sure you concentrate your efforts on any visible structure including logs and submerged trees. They will also seek shelter in deeper holes and rock ledges. Cod are most active in low light conditions such as sunrise and sundown. A medium to heavy bait caster rod is ideal when targeting cod. This might be a stiff 6-foot rods in 6-10 kilo class matched with a suitable size bait caster reel spooled with 20lb to 30lb braid and 30lb to 40lb leader. Good lure options for Murray Cod include hard body lures, surface lures, spinnerbaits, swimbaits, shads, lipless crankbaits, paddle tail and curtail soft plastics. These should be worked slowly or tolled from your boat or kayak if access is permitted. There are some amazing surface lures on the market these days including imitation mice, frogs, ducks, and snakes with realistic action that are fun to target cod with. Bait anglers can target Murray cod with live yabbies and worms.
This video highlights how to target stocked rainbow trout. Karkarook Lake is stocked heavily with rainbow trout every year during most school holidays so this video should provide you with some helpful tips.
There are visible snake warnings signs all over Karkarook lake and for good reason. So do take care and be wary around all areas that have water and high grass. Visitors are asked not to feed the ducks with signs visible around the grounds.
Drone footage of Karkarrok Pake Lake
Images of fish supplied VFA and DEPI. Credit to John Lo for aerial views of Karkarook park. All other images and videos shown on the Karkarook Park Fishing Guide are Fishing Mad originals.
Thank you for visiting the Karkarook Park Fishing Guide. If you feel this location guide is missing any key information or needs any corrections made, then please let us know by emailing our team at enquiries@fishingmad.com.au with specific details in the email. Thank you