Welcome to the Lake Bellfield Fishing Guide. Lake Bellfield is arguably one of the most stunning fishing locations. It's a 3-hour drive from Melbourne, heading towards Beaufort and Ararat. This beautiful country setting along the picturesque mountains of halls gap nestled within the Grampians. Lake Belfield is located only minutes past the main shops and array of accommodations in Halls gap. It was purpose-built in the 1960s acting as local water storage for farmers and residents. Its stature grew in 2010 as became an integral part of the Wimmera Mallee pipeline providing roughly 100 billion liters of water per year for townships across the Wimmera and Mallee area.
BECOME A FISHINGMAD MEMBER & UNLOCK ACCESS TO
Workshops | Giveaways | Podcasts | Competitions | Reports | Maps | GPS Marks | Rigging Tutorials | Sounder School | Exclusive Footage | Tackle Talks | Gear Guides | Kayak Club | Much More

The iconic dam wall is 800 meters long and located within the Halls Gap Tourist Park. In summer the lake is popular with recreational activities such as fishing and swimming and has good access for non powered vessels like kayaks and canoes ( electric motors permitted ). The lake in recent years has been stocked with salmon but year-round offers great fishing for trout and redfin.
Things to do at Lake Bellfield
This is a good location to take the family and unplug in a beautiful country setting. Stay at the Halls Gap Lakeside Tourist Park which has breathtaking views, quick access to the lake, heated pools, cabins, glamping, and a great assortment of local wildlife. Kangaroos, Emus, and an array of birdlife are present just about everywhere. Nearby attraction includes the halls gap zoo, Mackenzies falls, Silverband falls, Venus loop walks, Grampians helicopter flights, wine tours, rock climbing, and bushwalking. There are also walks to the peaks of the Grampians with walking trials for different levels. This whole area is great for fishing, it's not just Lake Bellfield but you also have surrounding lakes including Lake Fyans, Rocklands Reservoir, Lake Lonsdale, and Wartook Reservoir
Watch this video of FishingMad fishing the Grampians
Fishing Lake Bellfield
At Lake Bellfield you can catch
redfin
brown trout
rainbow trout
golden perch
chinook salmon
Blackfish
Lake Bellfield is a large manmade system home to a good population of trout and redfin. The trout establishment has had its challenges and the lake has been recognized as a prime location for natives. In march 2019 the lake welcomed the stocking of 120,000 golden perch with an effort to increase native fish species numbers as part of the target 1 million by 2020 and 10 million by 2022 initiatives. The lake was also stocked with over 10,000 Chinook Salmon between 2013 and 2014.
Good size redfin and trout are caught here regularly. It's a prime location to fish with a kayak and has unbelievable potential for those who enjoy fly fishing. Land-based anglers will also catch a good volume of redfin casting soft plastics from the banks. Effective fishing techniques include trolling hard-bodied lures in the deeper channels and casting hard-bodied lures, soft plastics, and surface lures along the shallows and banks. We would highly recommend when fishing here concentrate your time and effort casting lures towards and suspending baits hard up against the visible structure and depth changes. Many of the largest fish are often caught amongst the timber. The trick here is to present a lure or bait and tempt the bigger ones out of the structure they are residing in for a reaction strike.
In our experience, fishing can shut down in cold conditions with a low barometer. It may be a slog that will require you to work lures very slowly and resort to baits if the fishing gets too quiet. As the weather and water temperature rise these are generally productive conditions that will turn the golden perch and redfin into action and lures and trolling come into their own in these conditions. Trout and Redfin are notorious for feeding more heavily at Dawn and Dusk. My personal favourite is fishing the sundown.
With rising waters at the end of 2023 land based fishing can be challenging as you are limited to the areas between the Rockwall and drain. There isn't a great deal of structure here however you can access deep water quite easily and we have still caught many redfin, rainbow trout, and yellowbelly and always see big fish surfacing to east dragonflies which are very prominent on sunset.
Lake Bellfield Gear selection
Good gear selection here would include a 1-3 or 2-4 kilo fishing rod coupled with a 1000, 2000 or 2500 size reel spooled with 4-8-pound braid and equivalent fluorocarbon leader. If you are specifically targeting golden perch and chinook salmon then you could go slightly heavier with a 2-4 or 3-5 kilo fishing rod coupled with a 3000 size reel. Spooled with 8-12 pound braid and an equivalent fluorocarbon leader. Trolling Tassie Devils, stump jumpers, and minnow imitations such as the Daiwa double clutch at different depths is a great way to fish Lake Bellfield. We have also had great success fishing with a range of soft plastics & lures. Click here to see our best lures & plastics to catch redfin.
If bait fishing Mudeye, live minnow, and powerbait on a float is a great choice when targeting trout. Other good options include scrub worms and yabbies. I would do so using a very simple running sinker rig with a small hook or treble, and a small pea size sinker. Berleying an isolated area and fishing in that one spot is also a great idea when bait fishing.
Fishing the Grampians – Here are some great fishing locations in the surrounding area.
You may also want to try these fantastic fishing locations which aren't too far away including,
Recommended fishing lures Lake Bellfield
Watch our detailed video guide on our top 10 redfin lures below
ZMan Slim SwimZ paddle tail with an attached TT Jig Spinner
Tasmanian Devil Blade
Daiwa Double Clutch
Tackle Tactics Vortex Spinner Bait in 1/4oz
Daiwa Bait Junkiw 2.5 inch grub
Tasmanian Devil lure
Gulp 3 inch minnow
Zman 2.5 inch grub
Dawia Bait Junkie paddle tail minnow
Jackall TN50
Zerek fish trap
Jackall transams
Samaki vibelicious
eco gear ZX40
Savage Gear Fathead crank shallow diving
stump jumpers
Recommended baits Lake Bellfield
Scrub worms
Powerbait
Yabbies
Mudeye
live minnow
maggots
Targeting Trout at Lake Bellfield
We would highly recommend that you read our detailed guide on how to catch trout which details our favourite lures, baits, and techniques. You can follow when trout will be stocked using the Victorian trout stocking programs as part of the target 1 million by 2020 and 10 million by 2022 initiatives. When using lures, we would recommend shallow diving hard body minnows, metal spoons, spinners, and Tassie devils. Soft plastics are also very effective on trout. If your bait fishing, then Mudeye, scrub worms, power bait, yabbies and minnows suspended on a float or a running sinker rig are a great choice when targeting trout here. Fly fishing is a popular fishing method at this location. Trout are more active in cold conditions with most catches on the first and last light of the day. We recommend targeting trout we recommend a 1-3 or 2-4 kilo fishing rod coupled with a 2000, 2500, or 3000 reel spooled with 4-8-pound braid and equivalent fluorocarbon leader should be perfect. If there are trophy-size trout around then you could go heavier moving up the scale to a 3-5 kilo class spin rod spooled with fine 8-12-pound braid and equivalent fluorocarbon leader.
We conducted a test to see which would perform better for stocked trout powerbait or lures. Watch the video below to find out the results which were interesting.
Targeting Redfin at Lake Bellfield
We recommend targeting redfin with a light spin outfit. This will make the experience more enjoyable and improve your catch rates. A 1-3 or 2-4 kilo fishing rod coupled with a 2000, 2500, or 3000 reel spooled with 4-8-pound braid and equivalent fluorocarbon leader should be perfect. Redfin responds really well to lures and soft plastics so do check our guide on the best lures for catching Redfin When using soft plastics, we highly recommend curl tails, minnow imitations, and paddle tails in both natural and bright colours. Rigged with a jig head that's 1/8 through to 1/20 in weight. The most effective way to use these is to cast towards visible structure and slow roll the soft plastic with lifts and pauses for the retrieve. Shallow diving hard body lures, blades, and vibes are also very effective in this system. So are traditional spinners and Tassie devils in bright colours. Metal spoons also play a role in allowing you to cast great distances and targeting the bigger size reddies. Just remember they are quite heavy and very prone to snags in small inland systems like this one.
Targeting Yellowbelly at Lake Bellfield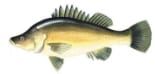 Yellow belly AKA Golden Perch is a beautiful freshwater fish found in this system. With a rich food source available the yellowbelly here grow too thick and plump sizes. Good lure choices include curl tail soft plastics with the zman 2.5-inch grubz and Gulp 3-inch grub minnow both in black are standout choices. Soft vibes such as the Zerek fish trap, Jackall transams and Samaki vibelicious are great options. lip-less crank-baits such as Jackall TN50 and TN60 continue to be very popular so do blades such as the eco gear ZX40 with stinger hooks. Other favourites are the reliable stump jumpers, spinnerbaits, bassman spinners, large grub style soft plastics in dark colours. Soft plastics are worked best on a 1/8 or 1/4 jig head slow-rolled along any structure. This works particularly well when tying your boat or kayak up against trees and working the soft plastic slowly up against the tree and adding some noise to the action by tapping the butt of your rod or by hitting the jig head into the timber. This brings out the predatory nature of the yellowbelly. Take advantage of down scan and side scan technologies on your sounder and spend some time moving between the structure to find the fish. Other lures to can be worked amongst the timber but in general work really well in open water being slow-rolled or trolled. When it comes to rod selection we generally use a light spin rod around 7 feet in length in 1-4, 2-4 or 3-5 kilo class paired with a 1000, 2000 or 2500 size reel. Spooled with 8-12 pound braid and an equivalent fluorocarbon leader. Baitcaster rods and reels are a very popular choice when targeting yellowbelly. Good options include a 3-5 or 4-6 bait caster with a 2000 bait caster reel. When bait fishing a 7 foot light rod paired with a 3000 size reel. Good bait rigs would include a paternoster rig with a small sinker at the bottom or a running sinker rig with scrub worms or yabbies.
Images of fish supplied VFA and DEPI. All images and videos shown on the Lake Bellfield Fishing Guide are Fishing Mad originals. Thank you for visiting the Lake Bellfield Fishing Guide. If you feel this location guide is missing any key information