Welcome to the St Leonards fishing guide. Fishing locations St Leonard's is a small coastal township with just over 200 residents. Its 110 kilometres from Melbourne and roughly 45 minutes past Geelong parallel to Queenscliff. With clear waters, weed beds and fishing in roughly 6 meter deep water it offers a vast array of fishing either on the main jetty, boat or kayak. Popular species to target include King George whiting and snapper. It's an excellent land-based location for squid fishing. It's a great location for fishing within Port Phillip Bay on the tip of the Bellarine peninsula.
BECOME A FISHINGMAD MEMBER 
Gain access to DETAILED FISHING WORKSHOPS | MONTHLY GIVEAWAYS | Q&A SESSIONS | WHAT'S BITING NOW REPORTS | TACKLE TALKS | KAYAK CLUB | CATCH OF THE MONTH | DISCOUNTS TO ONLINE SHOP | ADD-FREE EXPERIENCE
Things to do at St Leonards
This is a lovely location with clean beaches and local caravan parks. Nearby attractions include Harvey Park with great views of Port Phillip bay and picnic and BBQ facilities. There is also Duck island state reserve which is a popular parrot and bird lookout.
Geelong is located 70 kilometres away from Melbourne with many shops, parks, piers, restaurants, cafes, and adventures. Some of the local attractions include the beautifully maintained Geelong botanic gardens. If you're after a bit more excitement then Geelongs adventure park has world-class rides and waterslides. Including the new Tsunami waterslide. There is Serendip Sanctuary closer to Lara which offers access to Australia's wildlife and gardens. Geelong waterfront area is a vibrant spot full of piers and great for walking, picnics and eating.
Fishing St Leonards
St Leonards is a great fishing location by the pier, boat, kayak or jet ski. St Leonards is a great fishing destination with clear and clean waters and weed beds. This makes it a prime location to target squid, King George whiting, salmon, snapper, flathead, trevally, leather jackets, garfish and rays. A good idea is to watch for local reports to see what species is active at the time then specifically target that. Certain fish will be active seasonally example snapper active in summer and salmon active in winter.
The pier is located at the end of Murradoc road running along the esplanade. It gives access to deep water to those fishing by land.
When bait fishing some good options include pilchards, blue bait, silver whiting, raw chicken, pipis, garfish and Squid.
This is a prime destination to target squid. You can catch some really good size squid and in big numbers on its day. Boats and kayaks can just drift around weedy areas and have much success. If you plan on targeting squid on the pier then take some time to look for signs such as ink stains on the pier or weed beds that are visible from the pier. These are prime areas to target. The choice of squid jigs is almost endless here but pick something that will take advantage of the depth and distance that you need to cover.
You could also try suspending a full silver whiting or pilchard from a float and squid spike. If fishing on the pier an 8-9 foot Medium-light rod is ideal to provide extra casting distance and a 6-7 foot rod is ideal when on a boat or kayak. Why not read our detailed guide on How to catch squid at St Leonards.
Whiting is a prime fish species to target here as well. We find the best method by boat or kayak is to pick a location with notable depth drop-offs or weed. Anchor up then berely quite rigorously. A couple of light rods with a paternoster or running sinker rigs finished with pipis or small squid strips is a recipe for success. If you don't catch in 20 minutes lift the anchor move on and repeat the process.
Here is a video of FishingMad walking you through how to catch whiting by Kayak in the nearby area.
The snapper will arrive in the shallow areas around Summer. using a light to medium surf rod will allow you to cast a good distance from the end of the pier to get fresh baits in prime areas. We recommend using a running sinker rig to a swivel and 50cm of strong leader. Then finished with a pilchard tail or squid head on a 4/0 or 5/0 hook. Where possible use fresh bait which will help greatly.  If you chasing pinkies and flathead then a paternoster rig with pilchard tail or raw chicken breast will fish very well. A long net or gaff may be needed when trying to lift a fish out of the water onto the pier. 
Soft plastics from the main jetty or from a boat will work well for bread and butter species such as flathead and pinkies. You will catch much small fish but need to be prepared for the odd large fish such as a Trevally or Snapper.
Fishing dawn or dusk on the incoming high tide will be your best chance especially when the wind is chopping up a little. We have also noted that fishing around the full moon is also productive here.
Baits St Leonards
pilchard
pipis
blue bait
silver whiting
garfish
salmon
raw chicken strips
prawns
maggots
silverfish
squid
mussels
Lures and soft plastics for St Leonards
Squid jigs
Zman slim Swimz
Zman grubZ
EcoGear SX40
Zman StreakZ
Munroes 3.75 inch paddle tails
Squid fishing at St Leonards
Squid is a commonly targeted species at St Leonards. The area is full of weed beds which makes a great ecosystem for squid. The fishing for squid can be exceptional during the night and the pier is often full of anglers during the dark. You can learn more about targeting squid here by reading our detailed guide on How to catch squid
If your chasing squid then a light fishing rod between 7.5 foot and 9 foot in length is ideal. There are plenty of egi rods on the market fit for purpose. I have found myself fishing with a 7 foot 6-inch rod here with great success. Having a 300 size reel spooled with 10-pound braid and leader. For other fishing in this area, a general-purpose medium fishing outfit is ideal. This will allow you to cover a whole range of fish species. Perhaps starting with a 7 foot or 8-foot rod paired with a 3000 or 4000 reel spooled with 12-pound lines. Squid jigs can be prone to snagging in this area, and we have found a lot of locals using the smaller size of 2.5 and 3.0-gram jigs and working them slowly to avoid this problem.
Targeting Whiting at St Leonards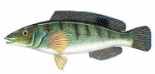 Whiting is a bread and butter species which are fun to catch on light spinning gear and taste great. Whiting school up in big numbers and they respond well to berley, so berley an isolated area with a mix of chicken pellets, Tuna oil and pilchards.  Whiting fishing requires finesse, so we recommend a light 1-3 or 2-4 kilo spin rod around 7 foot in length. Coupled with a light 1000-2500 size reel, spooled with 4 pounds or 6-pound line and leader.
When bait fishing a simple running rig with a small sinker to swivel, then 40cm of 4-pound leader to a small baitholder long shank hook or a paternoster rig with 2 hooks and a size sinker depending on your conditions. Watch our 25-minute whiting masterclass as we guide you through on everything you need to know to catch whiting.
Targeting Snapper at St Leonards
We encourage you to read our detailed guide on how to catch snapper. Snapper season locally starts around October and finishes after March. The big reds migrate inshore during this time of year because water temperatures have increased providing ideal spawning conditions. With dawn and dusk are generally considered the best times to be on the water. The most common snapper rods are 7 foot 6 inches in length with a weight class of 4-7 kilos paired with a 4000 or 5000 size reel spooled with 15-30 pound braid or mono and 40 pound leader. You can choose to fish lighter or heavier. Recommended bait options include pilchards either full or half, silver whiting, squid, garfish, mackerel and mullet.
The best soft plastics are large jerk shads, whip baits, curl tails or paddle tails. Most between 4 and 7 inches in size generally coupled with a ½ or ¼ ounce jig head. Some good options include Savage Gear Fat Curl Tails, Daiwa Bait Junkie Jerk shads & Berkley 7 inch turtleback worm, Zman curl tails.
Targeting Squid at St Leonards
Squid is a frequent catch on the pier towards the front and mid parts of the pier. Just look for the squid ink which is a great indicator of where to target them. Anglers do well-suspending squid jigs with the use of a float. Targeting squid is a fun form of fishing growing in popularity with the reward of fresh calamari. Squid can be caught all year round, you will find them in shallow weedy areas and they respond well to jigs in clear water conditions.
We recommend reading our detailed guide on How to catch squid around Melbourne. An egi rod between 7.5 foot and 9 foot in length is ideal and there are plenty of egi rods on the market fit for purpose. We recommend an 8 foot 3-inch rod paired with a 3000 size reel spooled with 15-pound braid. Squid jigs are prone to snags in this area, and we have found using slow sinking jigs in the smaller size of 2.5 and 3.0-gram jigs will help avoid this problem.
Cast your squid jig to allow time for the jig to sink then do a series of lifts and pauses to imitate a wounded prawn. The natural temptation is to strike Instead, a subtle lift to keep line tension and constant slow reel is all that's required.
Check out this video a master class on Kayak fishing for squid in Melbourne.
Targeting garfish at St leonards
Garfish or mini marlins are a fun local fish species to target. Generally caught between 20cm and 40 cm with no minimum legal-size limit but a daily bag limit of 40.
Garfish have large snout but very small mouth so the key to catching them is to use very small size hooks. Small long shanks between size 10 and size 14 are ideal choices.  The preferred rig setup should consist of using a pencil or quill float, then having a small split shot roughly 20cm above the hooks to keep the bait down. the floats will help suspend baits such as glacies, maggots or small pieces of fish flesh. berleying is a very important tool when targeting garfish, You can purchase premade berley pellets or powder from your local tackle shop or make your own use tuna oil, chook pellets and bread.
Catching gars is all about finesse and an ultralight 1-3 or 2-4 kilo nibble tip rod that's 7 to 9 foot in length Paired with a 1000, 2000 or 25000  size reel spooled with 4-6 lb line will be a great choice.
Targeting Salmon at St Leonards
Winter is a great time to target salmon as they're active and schooling up in big numbers. Salmon is a powerful sports fish that punches well above their weight. When hooked they produce strong bursts of speed, powerful runs, vigorous head shakes. Do keep an eye out for gutters which are patches of deeper water which Salmon will swim through in schools. These can be identified by a darker colour of the water.
When bait fishing pick a surf rod between 12-15 foot in length which allows for long casts with heavy sinkers and to keep your lines high above the crashing surf. These will be 6-10 kilo class. We recommend a Paternoster rig with a star sinker. Giving you 2 baits at different heights. You could also attach a surf popper above. Port Phillip Bay Fishing Guide
When lure fishing first consider what weight lures your likely to be casting. We would recommend rods between 9-12 foot in length in 5-10 kilo class paired with a 3000 size reel spooled with 15-pound braid. Good lure options include Savage Gear Missile, Halco twisty, Ecogear Teibo, JM Gilles pilchard baitfish, Rapala X-Rap SXR, Lazer spoons, Zman slim swimz, trick swimz, Halco laser pro
Targeting Trevally at St Leonards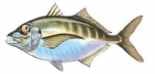 Trevally pound for pound is one of the best fighting fish. In certain parts of Australia surface popping for Giant Trevally is one of the bucket list fishing experiences that you must tick off. However, in Victoria, you will mainly be catching the much smaller silver trevally. Good bait options include blue bait, whitebait, raw chicken, pilchards, pippies, squid and mussels. Trevally will also take a range of soft plastics including worm and minnow imitations, small surface poppers, and small metal spoons.
We recommend targeting trevally with a 1-3 or 2-4 kilo fishing rod coupled with a 2000, or 2500 reel spooled with 4-8-pound braid and equivalent fluorocarbon leader. If there are larger trevally in the area than you can go heavier moving up the scale to a 3-5 kilo class spin rod spooled with fine 8-12-pound braid and equivalent fluorocarbon leader.
Targeting Gummy Shark at

St Leonards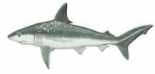 We would recommend targeting gummy shark with a 7 foot 8-15 kilo rod paired with a 4000 to 6000 size reel spooled with 20 to 40 pound line. Finished with a strong leader ranging from 40lb through to 60 pounds. Ideal rigs include a running sinker rig to single or double snelled rig or paternoster rig. You can use an Ezi rig attaching a sinker to the clip then tying on a pre-made double snelled rig. Octopus or circle hooks from 5/0 to 7/0 are preferred for presenting chunks of salmon, trevally, squid, mackerel, Eel, mullet, pilchard, yakka's, & garfish.
Targeting Flathead at St Leonards
We encourage you to read our detailed guide on How to catch Flathead. Flathead is a year-round prospect which can be caught at any time of the day. They are an ambush predator that waits in disguise for smaller fish to swim buy for an easy feed. This highlights the importance of keeping your baits and soft plastics towards the bottom. If fishing from a boat or kayak we would recommend drifting around the sandy flats until you find a good patch of them. Also, keep an eye for depth drop-offs which is a great location for an ambush predator to be waiting.
We recommend targeting flathead with a 7 foot 2–4 or 3-5 kilo fishing rod paired with a 2500 or 3000 size reel spooled with 8-12lb braid and equivalent leader. You can go lighter, but flathead has bristly teeth that can compromise your fishing line.
Flathead is not fussy and will happily have a go at many various soft plastics and lures. We would highly recommend reading our detailed guide on the best lures and soft plastics to catch flathead. Top choices include worm and yabby imitations, paddle tail soft plastic, curl tail soft plastics, deep diving hard body lures, vibes, swimbaits, and blades.
If your targeting flathead with bait, we recommend using a paternoster rig or running sinker rig. Using a small ball sinker to swivel, then 50cm of 8-12 leader to a size 6 long shank hook. Good baits choices include pilchards, mussels, squid, chicken, whitebait, Pipis, blue bait and prawns.
Acknowledgements
Images of fish supplied VFA and DEPI. All other images and videos shown on the St Leonards fishing guide are Fishing Mad originals.
Additions or Corrections for this location
Thank you for visiting the St Leonards fishing guide. If you feel this location guide is missing key information or needs any corrections made, then please let us know by emailing our team at enquiries@fishingmad.com.au with specific details in the email. Please also feel free to share any fishing pictures you have from this location with us. Thank you