Welcome to the Docklands Fishing Guide. The Docklands is a great fishing location within the heart of Melbourne on the fringes of the CBD. A busy urban location that offers anglers a wide variety of species to target and techniques to master. It's a great spot for local anglers targeting bream on lures within the array of structures and pylons. Seasonally it has a good run of snapper, mulloway and recently kingfish. You can fish from the piers and jetties or even cast out towards the Bolte Bridge. It's a destination growing in popularity with Kayakers if you can find parking close enough.
BECOME A FISHINGMAD MEMBER & UNLOCK ACCESS TO
Workshops | Giveaways | Podcasts | Competitions | Reports | Maps | GPS Marks | Rigging Tutorials | Sounder School | Exclusive Footage | Tackle Talks | Gear Guides | Kayak Club | Much More

Things to do at the Docklands
The Docklands is on the fringes of the Melbourne CBD, therefore there is plenty to do. In close proximity is the Docklands there is a popular shopping precinct with popular retail outlets. There is Marvel stadium which hosts AFL games on weekends. There is the iconic Melbourne star wheel which gives you a high 360 view of the Melbourne CBD which is quite spectacular at night. You also could try ice skating at the O'Brien icehouse which is Australia's largest ice arena hosting many sporting events. ArtVo is also a very popular location for the family with amazing artistic photo opportunities. Cinemas are also scheduled for late 2019 in this area.
You could also catch a tram into the heart of the city, Crown Casino or Queen Victoria Market. You could also catch a ferry or cruise along the Yarra River. There are lots of different locations to fish within a small area and cafes and shops are close by so should the bite not be on you can go and do another activity for a while and later come back to the fishing. Parking at the Docklands for fishing can be a little tricky. There are some free parking spots towards North Wharf road but they fill up very quickly. In most cases will cost you around $15 and you may be forced to carry your fishing gear amongst the crowds shopping or going to the footy. Stay up to date with events at the Docklands. 
Fishing at the Docklands
At the Docklands you can target
bream
snapper
pinkies
trevally
mulloway
flathead
mullet
garfish
kingfish
Australian salmon
Bream will be one of the main target species at the Dockland as they reside in big numbers within the structure such as jetty pylons and stumps. Enticing them away from the structure onto your lure will take some practice. The choice of lures is almost endless to make things easier we created a detailed video on the best lures and how to use them.
You can also read our detailed guide on the best lures to catch bream. As the video above demonstrates lures are a great option here. We would recommend soft plastics such as small paddle tails and curly tails. Casting imitation-style lures such as imitation crabs and yabbies works really well worked very slowly amongst the structures and shadows. Fishing with vibes and blades is also very good in this area, where you can accurately cast your lure of choice very close to the structure and strike zone.
When fishing with bait at Docklands we recommend using scrub worms, yabbies, and live maggots for targeting bream. Pilchards, squid, whiting fillet, and chicken are good options at Docklands for snapper, mulloway, and other species. If you target mulloway then using live mullet is another good option. There are many different fishing techniques on offer at Docklands depending on the species of fish you target. If you are targeting bream, pinkies, mullet, or trevally then a light 7-foot spin rod is a great option. 1-3 or 2-4 kilo fishing rod coupled with a 1000-2500 size reel. This will allow you to accurately get your plastics or blades in the right strike zone where fishing a residing. If you're bait fishing then we encourage you to experiment with a float to avoid snags and a light leader.
Then there is the other extreme targeting large and powerful species such as mulloway, kingfish, and snapper. We would recommend a heavier rod and a larger reel. Maybe starting with a snapper outfit. 7-foot rod with a 4000 size reel spooled with 12-20 pound monofilament lines. Then work your way up the scale as your target big kingies and mulloway. There are so many options so don't be afraid to experiment with what works for you. High tide is always preferable for me at the Docklands, The rising tide brings fish in to feed on the structure. Sunrise and sundown are always favorable but not a necessity in this area unless you plan to chase Mulloway which is much more active at night. Only 2 fishing lines are permitted per person. Always carry your Victorian fishing license, and always follow the catch limits. Where possible we encourage catch and release.
Watch this vid on targeting bream with crank lures
Recommended baits Docklands
At this location, we would highly recommend the baits suggested below. There are several ways to present baits including a running sinker rig, paternoster rig, or dropper rig. The rig and sinker choice will be dependent on the species you are targeting and the conditions such as wind and tidal strength.
yabbies
Scrub worms
sandworms
maggots
mussels
prawns
pilchards
Best lures and soft plastics Docklands
Zman grubZ
Cranka crab
Mussel Vibes
Zman slim Swimz
Damiki Monster Miki 2.5 sp
Jackall Chubby
Savage Gear Fathead Crank
Daiwa Bait Junkie 2.5 inch grub
Gulp 3-inch minnow
Daiwa Bait Junkie paddle tail minnow
Squidge wrigglers
Daiwa Double-clutch
EcoGear SX40
Nories laydown minnow
StrikePro cyber vibe
Pro lure live yabby
OSP bent minnows
Targeting Bream Docklands
This is a great location to target bream with lures and soft plastics. The options available are almost endless so make sure you read our guide on the best lures to catch bream. Recommended options include crab imitation, shallow diving cranks, paddle tail soft plastics, curl tail soft plastics, minnow imitations, vibes, and blades. Also, try your luck with surface lures which is an exciting form of fishing with light gear.
Bream is all about finesse fishing so you will need an ultralight spin outfit. We recommend a 7-foot rod in a 1-3 or 2-4 kilo class, paired with a 1000, 2000 or 2500 reel spooled with 2-6-pound braid and equivalent leader. There are so many amazing bream outfits on the market and budgets vary greatly depending on your skill level and spending habits. Bream reside within structure such as jetty pylons and stumps. Enticing them away from the structure onto your lure will take some time to master. Remember to work your lures and plastics slowly and mix up the retrieval techniques. If you target bream with bait then we would highly recommend sandworms, maggots, scrub worms, mussels, yabbies, & chicken. A 2-4 kilo class rod paired with a 2500 size reel would be a great option spooled with 6-pound line. We would encourage you to read our detailed guide on Bait fishing for Bream.
Targeting Snapper at Docklands
Locally Snapper season starts around October and finishes towards April. The big reds migrate inshore due to the warmer water temperatures which provide ideal spawning conditions. Dawn, Dusk, and tide changes are considered the best times to catch snapper. Snapper will take a variety of baits and soft plastics. For bait a 7 to 8 foot rod with a 4-7 kg rating paired with a 4000 or 5000 size reel spooled with 15-30 pound line is great. Good bait options include pilchards, silver whiting, squid, and salmon. When it comes to soft plastics, a 7 foot 3-6 kilo rod paired with a 3000 size reel is great. Good soft plastics include jerk shads, whip baits, curl tails, or paddle tails between 3 and 5 inches in a variety of colours. We encourage you to read our detailed guide on how to catch snapper.
Check out this instructional video guide on how to catch snapper with soft plastics filmed locally in Port Phillip Bay
Targeting Mulloway at Docklands

Mulloway AKA Jewfish are a prized catch that sits on the top of many Victorian anglers' bucket lists. A stunning fish with a large mouth and distinctive silver or bronze color. Patience and dedication are required to catch the elusive Mulloway which can reach up to 1.8 meters and 60 kilos. The minimum legal size is 60cm with a daily bag limit of 5 over the legal size. Live baits are a top choice when targeting mulloways such as mullet, salmon, and whiting. Pinning them behind the neck to allow the bait to swim freely. Other staple dead baits can include pilchard, trevally, garfish, prawns, chicken & squid. A running sinker rig to a single 5/0 – 8/0 hook or a double snelled hook to present the bait nicely. Soft plastics between 80mm and 100mm are also a great option. Good options include flick baits, shads, paddle tails and grubz. You can also purchase pre-made rigs and swimbaits which are designed to imitate a fish in its surroundings such as a mullet.
Choosing a Mulloway outfit Recommended gear to target Mulloway 6-10, 10-15 or 12-24 kilo rod paired with a 4000-8000 spin reel spooled with 20-50 pound line and equivalent leader. Mulloway resides near river mouth entrances. They are often caught near structures such as bridges and pylons. Try to present your baits and lures as naturally as possible or use live baits. Mulloway can be caught at any time of the day, but are most active at the night, during peak tides and moon phases. We have found that lures are quite productive during the day and bait is more productive at night.
Targeting Trevally at Docklands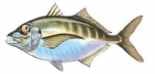 Trevally pound for pound is one of the best fighting fish. In certain parts of Australia surface popping for Giant Trevally is one of the bucket list fishing experiences that you must tick off. However, in Victoria, you will mainly be catching the much smaller silver trevally. Good bait options include blue bait, whitebait, raw chicken, pilchards, pippies, squid, and mussels. Trevally will also take a range of soft plastics including worm and minnow imitations, small surface poppers, and small metal spoons.
We recommend targeting trevally with a 1-3 or 2-4 kilo fishing rod coupled with a 2000, or 2500 reel spooled with 4-8-pound braid and equivalent fluorocarbon leader. If there are larger trevally in the area then you can go heavier moving up the scale to a 3-5 kilo class spin rod spooled with fine 8-12-pound braid and equivalent fluorocarbon leader.
Targeting Kingfish at Docklands
Kingfish are unparalleled sports fish that possess immense power. Kingies can grow over a meter in length, have amazing fighting qualities, generally school up in big numbers, are also renowned table fish, and are a very welcome bycatch for those who may have been out in deeper waters targeting species such as Tuna. A heavy-duty setup is required starting with a 10-15 kilo rod paired with a 6000-20000 size reel. Some good options include the Penn Slammer, Shimano Saragosa, Daiwa Saltist, Daiwa Saltiga or Shimano Stella spooled with 20 to 50-pound line. Good bait options include squid, pilchard, and garfish. Or live baits such as yakka's, squid, and mackerel. From the boat, vertical jigging metal lures is one of the most successful techniques. You can also target them with large soft plastics. Kingies are generally active between December through to March and can be located during most hours of the day. Kingfish love swimming and patrolling along with structures such as rock walls, so it pays to keep your lure or jig close to the structure.
This biggest issue at the Docklands will likely be getting your lines snagged and needing to re-setup your rig. This will happen when fishing close to the structure and getting bites and just generally sometimes so go prepared and don't let a bust off a good fish break your spirits as that's to be expected in this area.
Images of fish supplied VFA and DEPI. Maps provided by City Victoria and the header by Businesinsider.com All images and videos shown on the Docklands Fishing Guide are Fishing Mad originals. Thank you for visiting the Docklands Fishing Guide. If you feel this location guide is missing any key information or needs any corrections made, then please let us know by emailing our team at enquiries@fishingmad.com.au with specific details in the email. Thank you