Welcome to the Lorne Artillery Rocks Fishing Guide. The Lorne Artillery Rocks is a wonder along the great ocean road beyond the popular township of Lorne. A stunning drive with epic views but it's not the easiest location to find with poor signage. Once you locate it walk down the stairs to the fishing spot. A natural rock formation is likely caused by volcanic rock. It's a beautiful scenic location but it's a tough spot to fish with crashing waves, and a slippery rocky surface this spot is renowned for exceptional salmon fishing.
**BECOME A FISHINGMAD MEMBER** Exclusive Fishing Workshops, Exciting Monthly Giveaways, In-Depth Fishing Reports with GPS Coordinates, Members Podcast, Interactive Maps, Catch of the Month Competitions, Kayak Club, Gear Guides, Rigging Tutorials, Tackle Talks, Sounder School, Fishing Tips, Fish Cleaning tutorials, Behind the scenes content & more.
Things to do at Lorne
Lorne is a very popular holiday destination with plenty of outdoor activities for the family. There are many clean beaches including the main beach which is monitored by the local life-saving club, then there is Scotchman's hill beach and Shelly beach. Then you can explore Lorne natural beauty and wonders with some amazing waterfalls including Erskine Falls, Won Wondah falls, Henderson falls, Phantom falls, Sheoak falls & Cumberland falls. There are plenty of beautiful scenic walks including Teddy's lookout, Queens park walk, St Georges river walks, Stony Creek walk and the historic bridge walk. There are also many places perfect for a picnic or BBQ.
Lorne is also well known for the great ocean road which was finished in 1932. A 243-kilometre winding road carefully built between hillsides and surf beaches is a true wonder of Victoria. Starting from Torquay and finishing near Warnambool. Along the journey, you will pass beautiful beaches, remarkable lookouts, vibrant townships, waterfalls, light towers, and finish near the 12 apostles.
Fishing Lorne Artillery Rocks
At the Lorne Artillery rocks, you can catch salmon, mullet, whiting, barracoota, snapper, gummy sharks and more. The primary target will be salmon during the colder months and snapper in the warmer months. We highly recommend reading our detailed guide on Salmon fishing.  When fishing with bait we highly recommend using a rod between 10 and 15 foot. This will give you ample casting distance of the rocks. The rig choice should be a paternoster rig with a heavy star sinker to cast far out as possible with a full blue bait or pilchard as a great starting choice for bait. This is also a great spot for casting lures. A 9 to 12-foot rod will allow you to cast metal lures great distances. Long casting metal lures such as Savage Gear Missile, Halco twisty are a great choice when targeting Salmon.
Leave the family in town, this is not a friendly or safe place to take the kids fishing. This can be a dangerous spot to fish and you must be very cautious at the peak of high tide to avoid crashing waves and ensure you're able to move around safely. The rocks can get slippery especially when casting heavy baits and long casting lures. Wasps can also be a big problem when leaving exposed baits.
Baits Lorne Artillery Rocks
pilchard
pipis
blue bait
silver whiting
salmon
prawns
squid
Lures and soft plastics for Lorne Artillery Rocks
Savage Gear Missile
Halco twisty
Ecogear Teibo
JM Gilles pilchard baitfish
Rapala X-Rap SXR
Lazer spoons
Zman slim swimz
trick swimz
Halco laser pro
Daiwa Bait Junkie 2.5 inch grub
Berkley gulp turtleback worm
Savage Gear Fat Curl tails
Daiwa Bautjunkie 4 inch grubs
Zman slim Swimz
Berkley powerbait grub
Daiwa Bait Junkie paddle tail minnow
Zman grubZ
Targeting Salmon at Lorne
Winter is a great time to target salmon as they're active and schooling up in big numbers. Salmon is a powerful sports fish that punches well above their weight. When hooked they produce strong bursts of speed, powerful runs, vigorous head shakes. Do keep an eye out for gutters which are patches of deeper water which Salmon will swim through in schools. These can be identified by a darker colour of the water. When bait fishing pick a surf rod between 12-15 foot in length which allows for long casts with heavy sinkers and to keep your lines high above the crashing surf. These will be 6-10 kilo class. We recommend a Paternoster rig with a star sinker. Giving you 2 baits at different heights. You could also attach a surf popper above.
When lure fishing first consider what weight lures your likely to be casting. We would recommend rods between 9-12 foot in length in 5-10 kilo class paired with a 3000 size reel spooled with 15-pound braid. Good lure options include Savage Gear Missile, Halco twisty, Ecogear Teibo, JM Gilles pilchard baitfish, Rapala X-Rap SXR, Lazer spoons, Zman slim swimz, trick swimz, Halco laser pro
Check out this video of a crazy salmon school we recently encountered.
Targeting Snapper at Lorne
We encourage you to read our detailed guide on how to catch snapper. Snapper season locally starts around October and finishes after March. The big reds migrate inshore during this time of year because water temperatures have increased providing ideal spawning conditions. With dawn and dusk are generally considered the best times to be on the water. The most common snapper rods are 7 foot 6 inches in length with a weight class of 4-7 kilos paired with a 4000 or 5000 size reel spooled with 15-30 pound braid or mono and 40 pound leader. You can choose to fish lighter or heavier. Recommended bait options include pilchards either full or half, silver whiting, squid, garfish, mackerel and mullet. The best soft plastics are large jerk shads, whip baits, curl tails or paddle tails. Most between 4 and 7 inches in size generally coupled with a ½ or ¼ ounce jig head. Some good options include Savage Gear Fat Curl Tails, Daiwa Bait Junkie Jerk shads & Berkley 7 inch turtleback worm, Zman curl tails.
learn to make your own snapper and gummy shark rigs by watching this video
Targeting Gummy Shark at Lorne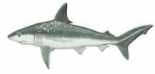 We would recommend targeting gummy sharks with a 7 foot 8-15 kilo rod paired with a 4000 to 6000 size reel spooled with a 20 to 40-pound line. Finished with a strong leader ranging from 40lb through to 60 pounds. Ideal rigs include a running sinker rig single or double snelled rig or paternoster rig. You can use an Ezi rig attaching a sinker to the clip and then tying on a pre-made double snelled rig. Octopus or circle hooks from 5/0 to 7/0 are preferred for presenting chunks of salmon, trevally, squid, mackerel, Eel, mullet, pilchard, yakka's, & garfish.
Images of fish supplied VFA and DEPI. All other images and videos shown on the Lorne Artillery Rocks Fishing Guide are Fishing Mad originals.
Thank you for visiting the Lorne Artillery Rocks Fishing Guide. If you feel this location guide is missing key information or needs any corrections made, then please let us know by emailing our team at enquiries@fishingmad.com.au with specific details in the email. Please also feel free to share any fishing pictures you have from this location with us. Thank you