Welcome to The Rip Fishing Guide. The Rip is also known to some as The Heads" is a treacherous stretch of water connecting Port Phillip and The Bass Strait. The only entrance in and out of Port Phillip Bay. What makes the rip quite dangerous are large waves with a high swell and strong tidal flow. The entrance between Point Lonsdale and Point Nepean is roughly 3.5 km wide but the reefs on the sides reduce this width to about 1 km. 800m outside the Heads is a shallow rocky flat known as the Rip Bank. The water quickly goes to depths of 30 meters beyond this point and again to 90 meters not long after.
**BECOME A FISHINGMAD MEMBER** Exclusive Fishing Workshops, Exciting Monthly Giveaways, In-Depth Fishing Reports with GPS Coordinates, Members Podcast, Interactive Maps, Catch of the Month Competitions, Kayak Club, Gear Guides, Rigging Tutorials, Tackle Talks, Sounder School, Fishing Tips, Fish Cleaning tutorials, Behind the scenes content & more.
This system is dangerous, it has claimed lives and damaged many boats. Only very experienced operators should consider fishing and boating in these areas. If you are new or inexperienced then look up a fishing charter that can take you out. There are also large shipping vessels that come in and out of this section so do ensure you stay clear of any shipping lanes.
As shown in the map above the Rip is separated by 3 key points Point Lonsdale, Shortlands Bluff, and Point Nepean.
Things to do The Rip
There are many beautiful surrounding townships on either side. That would include on the Bellarine Peninsula Queenscliff, Clifton Springs, Ocean Grove and on the Mornington peninsula side Sorrento, Rye and Rosebud. All of these are very popular destinations for holidays around Victoria. Clean beaches, scenic walks, parks, cafes, restaurants and much more. These surrounding areas are popular for swimming, snorkelling, kayaking and fishing.
Fishing The Rip
At the Rip, you can target Kingfish, Tuna, Snapper, gummy sharks and more. The main target species at the rip is the yellowtail Kingfish. Good ways to target them is to catch live squid and use them as bait or targeting Kingies with lures is a really fun method, it also saves you the hassle of needing to catch live bait and keep it alive. What has become very popular is casting heavy jibs between 80 to 120grams has become a very popular choice. Casting out with a quick retrieve is a great strategy, or jigging up and down on top of the school. For soft plastics, large flick baits and large paddle tails are a great choices. Generally coupled with 1/2 ounce jig heads. I generally cast this out and let the soft plastic sinker then do a number of aggressive up and down lifts to imitate a wounded baitfish going crazy. This usually gets a passing by kingies attention. I like natural baitfish colours here such as whites greens and blues. ( match the hatch ) Kingfish love swimming and patrolling along with structures such as rock walls, so it pays to keep your lure or jig close to the structure.
Targeting Kingfish at the Rip
Kingfish are unparalleled sports fish that possess immense power. Kingies can grow over a meter in length, have amazing fighting qualities, generally school up in big numbers, are also a renowned table fish and are a very welcome bycatch for those who may have been out in deeper waters targeting species such as Tuna. A heavy-duty setup is required starting with a 10-15 kilo rod paired with a 6000-20000 size reel. Some good options include the Penn Slammer, Shimano Saragosa, Daiwa Saltist, Daiwa Saltiga or Shimano Stella spooled with 20 to 50-pound line. Good bait options include squid, pilchard, and garfish. Or live baits such as yakka's, squid, and mackerel. From the boat, vertical jigging metal lures is one of the most successful techniques. You can also target them with large soft plastics. Kingies are generally active between December through to March and can be located during most hours of the day. Kingfish love swimming and patrolling along with structures such as rock walls, so it pays to keep your lure or jig close to the structure.
Targeting Tuna at the Rip
Tuna is a remarkable fish species with a worldwide reputation for speed, size power and taste. Genuine missiles of the ocean and for many a bucket list fish. Tuna have remarkable fighting qualities and unparalleled eating qualities. Tuna fishing hits its peak in the colder months. Locally we have bluefin, yellowfin, & albacore all of which grow to massive sizes. Good ways to find tuna include watching your sounder for large bait balls, drop-offs and reefs. However, the biggest indicators are often breaking water and large congregations of birds that are diving into the water. Targeting barrels requires specialised equipment consisting of big game rods, expensive game reels and heavy line. These are often trolled with the aid of downriggers. For many, the best way to experience this is through a specialised tuna charter operator. If you are targeting schoolies, then you can do this by using 10-15 or 10-24 kilo spin rod and a 5000-20000 size reel spooled with 30-50 pound braid. This can be a fun form of fishing.
Targeting Snapper at the rip
We encourage you to read our detailed guide on how to catch snapper. Snapper season locally starts around October and finishes after March. The big reds migrate inshore during this time of year because water temperatures have increased providing ideal spawning conditions. With dawn and dusk are generally considered the best times to be on the water. The most common snapper rods are 7 foot 6 inches in length with a weight class of 4-7 kilos paired with a 4000 or 5000 size reel spooled with 15-30 pound braid or mono and 40 pound leader. You can choose to fish lighter or heavier. Recommended bait options include pilchards either full or half, silver whiting, squid, garfish, mackerel and mullet. The best soft plastics are large jerk shads, whip baits, curl tails or paddle tails. Most between 4 and 7 inches in size generally coupled with a ½ or ¼ ounce jig head. Some good options include Savage Gear Fat Curl Tails, Daiwa Bait Junkie Jerk shads & Berkley 7 inch turtleback worm, Zman curl tails.
Targeting Gummy Shark at the rip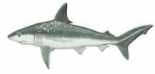 We would recommend targeting gummy sharks with a 7 foot 8-15 kilo rod paired with a 4000 to 6000 size reel spooled with 20 to 40 pound line. Finished with a strong leader ranging from 40lb through to 60 pounds. Ideal rigs include a running sinker rig single or double snelled rig or a paternoster rig. You can use an Ezi rig attaching a sinker to the clip and then tying on a pre-made double snelled rig. Octopus or circle hooks from 5/0 to 7/0 are preferred for presenting chunks of salmon, trevally, squid, mackerel, Eel, mullet, pilchard, yakka's, & garfish.
Targeting Flathead at the rip
We encourage you to read our detailed guide on How to catch Flathead. Flathead is a year-round prospect that can be caught at any time of the day. They are an ambush predator that waits in disguise for smaller fish to swim by for an easy feed. This highlights the importance of keeping your baits and soft plastics towards the bottom. If fishing from a boat or kayak we would recommend drifting around the sandy flats until you find a good patch of them. Also, keep an eye for depth drop-offs which is a great location for an ambush predator to be waiting. We recommend targeting flathead with a 7 foot 2–4 or 3-5 kilo fishing rod paired with a 2500 or 3000 size reel spooled with 8-12lb braid and equivalent leader. You can go lighter, but flathead has bristly teeth that can compromise your fishing line.
Flathead is not fussy and will happily have a go at many various soft plastics and lures. We would highly recommend reading our detailed guide on the best lures and soft plastics to catch flathead. Top choices include worm and yabby imitations, paddle tail soft plastic, curl tail soft plastics, deep diving hard body lures, vibes, swimbaits, and blades. If you are targeting flathead with bait, we recommend using a paternoster rig or running sinker rig. Use a small ball sinker to swivel, then 50cm of 8-12 leader to a size 6 long shank hook. Good baits choices include pilchards, mussels, squid, chicken, whitebait, Pipis, blue bait and prawns.
This is a very dangerous stretch of water that should only be taken on by very experienced boaters in the right conditions. High swell, strong tidal flow, and narrow rocky entrances make this a location that demands a level of respect. 
Images of fish supplied VFA and DEPI. Map from Wikipedia. Header pdh.net.au All other images and videos shown on The Rip Fishing Guide are Fishing Mad originals.
Thank you for visiting The Rip Fishing Guide. If you feel this location guide is missing key information or needs any corrections made, then please let us know by emailing our team at enquiries@fishingmad.com.au with specific details in the email. Please also feel free to share any fishing pictures you have from this location with us. Thank you