Welcome to the Tidal River Fishing Guide. The Tidal River is located within Wilsons Promontory National Park. Originally established as an army training base during World War Two. This is a beautiful and scenic fishing destination 3 hours drive east of Melbourne which is an exceptional camping and fishing destination.
**BECOME A FISHINGMAD MEMBER** Exclusive Fishing Workshops, Exciting Monthly Giveaways, In-Depth Fishing Reports with GPS Coordinates, Members Podcast, Interactive Maps, Catch of the Month Competitions, Kayak Club, Gear Guides, Rigging Tutorials, Tackle Talks, Sounder School, Fishing Tips, Fish Cleaning tutorials, Behind the scenes content & more.
Things to do at Tidal River
What a scenic location home to wombats, wallabies, deer, birdlife, beautiful beaches and lush walking trails. Tidal River is home to 500 camping and caravan sites along the beach and river. It's the only township within Wilsons Prom National Park found from Yanakie at the park entrance near the sand dunes behind Norman Bay. This location has become so popular that all accommodation must be pre-booked well in advance. During summer a ballot is held to allocate sites from Christmas until late January. The scenic views are exceptional here and many walking tracks start and end at Tidal River, making it a prime location to explore the Prom. Wilsons Promontory Marine National Park is a true wonder and Victoria's largest reef spanning 16,000 hectares.
This protected marine area is home to a spectacular underwater world.
Granite cliffs plunge below the surface and give way to colourful sponge gardens and rich marine ecosystems that rival parts of the Great Barrier Reef. Colourful fish such as the Red Velvetfish, Wrasse, Eastern Blue Groper, and schools of Berber. Boulders and caves harbour colourful gardens of giant sponges, fan-shaped Georgian corals, sea lace colonies, sea tulips, and sea whips. Keep an eye out for vividly coloured sea stars, Lace Corals and the rare Weedy Seadragon hiding out amongst the vegetation. You can also snorkel at Norman Beach or explore the offshore rock stacks and islands teeming with colonies of fur seals and oceanic birds such as Little Penguins, Fairy Prions, and White-bellied Sea Eagles, and Short-tailed Shearwaters.
Fishing the Tidal River
Starting with the forested hills of Wilsons Promontory National Park. This section is closed to fishing upstream of the Tidal River Road. The lower estuary reaches are open to fishing and offer excellent fishing for bream, estuary perch, trevally, yellow-eye mullet, and closer towards the sea entrance flathead, flounder, luderick and Australian salmon. The fish often aren't huge in size but plentiful in numbers, especially when using small soft plastics or small baits with small hooks and sinkers. The boardwalk around the river offers excellent land base fishing and there are several scattered jetties great for fishing near the caravan park. Small boats can be launched from the beach adjacent to the estuary but you will want to do this during calm sea conditions. We highly recommend reading our guide on the best lures to catch bream.
There is good kayak launching access and plenty of land-based fishing option near the camping area and the mouth of the river have good bank access for those land base fishing. Bream and Estuary Perch will be your primary target and a great year-round option. A great starting point here for bream and other species would be a 2.5-inch grub or paddle tail on a 1/16 or 1/20 ounce of a jig head. Covering distance and casting towards any visible structure. When flicking lures and plastics you will need an ultralight spinning outfit. This would start with a light rod around 7 feet in length either a 1-3 or 2-4 kilo class. There are so many great options to choose from in this range which can be quite confusing for beginners. When choosing a reel make sure you pick a 1000, 2040 or 2500 size that is best, spooled with a 4-6 pound braid and finished with a 2 or 4-pound leader. Again the range of reels on the market is amazing and the budgets vary greatly depending on your skill level and spending habits. If you plan on fishing with baits then we would highly recommend using Sandworms, maggots, scrub worms, pilchards, mussels, yabbies, & chicken. For bait fishing again a light rod setup is best. A 2-4 kilo class rod with a 2500 size reel would be a great option spooled with a 6-pound line. Beginners can go a little heavier with a 3-5 kilo rod.
We would encourage you to watch our video below on how to catch bream with bait or read our detailed guide on Bait fishing for Bream.
Recommended baits Tidal River
yabbies
Scrub worms
sandworms
maggots
mussels
pilchards
prawns
Recommended lures and soft plastics Tidal River
Zman grubZ
Zman slim Swimz
Cranka crab
Berkley powerbait grub
Damiki Monster Miki 2.5 sp
Jackall Chubby
Savage Gear Fathead Crank
Daiwa Bait Junkie 2.5 inch grub
Gulp 3-inch minnow
Daiwa Bait Junkie paddle tail minnow
Squidge wrigglers
eco gear ZX40
Daiwa Double Clutch
EcoGear SX40
Squidges biotough grub
Nories laydown minnow
StrikePro cyber vibe
Pro lure live yabby
OSP bent minnows
Hurricane twitch 50 shallow
Targeting Bream at Tidal River
This is a great location to target bream with lures and soft plastics. The options available are almost endless so make sure you read our guide on the best lures to catch bream. Recommended options include crab imitation, shallow diving cranks, paddle tail soft plastics, curl tail soft plastics, minnow imitations, vibes, and blades. Also, try your luck with surface lures which is an exciting form of fishing with light gear. Bream is all about finesse fishing so you will need an ultralight spin outfit. We recommend a 7-foot rod in a 1-3 or 2-4 kilo class, paired with a 1000, 2000 or 2500 reel spooled with 2-6-pound braid and equivalent leader. There are so many amazing bream outfits on the market and budgets vary greatly depending on your skill level and spending habits.
Bream reside within the structure such as jetty pylons and stumps. Enticing them away from the structure onto your lure will take some time to master. Remember to work your lures and plastics slowly and mix up the retrieval techniques. If you are targeting bream with bait then we would highly recommend sandworms, maggots, scrub worms, mussels, yabbies, & chicken. A 2-4 kilo class rod paired with a 2500 size reel would be a great option spooled with 6-pound line. We would encourage you to read our detailed guide on Bait fishing for Bream.
Targeting Estuary Perch at Tidal River
Another highlight of fishing in this area is targeting Estuary perch with surface and shallow diving lures. The action can be frantic on warm balmy evenings with low wind. listen for the sound of breaking water which indicates EPs are feeding. The excitement an angler gets from an EP smashing a surface lure on light gear is something that truly needs to be experienced. It almost catches you by surprise when that aggressive strike comes. Small surface poppers, cicadas, blades, surface minnows and pencil lures work well here. So do shallow diving hardbody lures. Noteworthy options include bent minnows, Rapala countdown series, nories laydown minnows and shallow diving cranks. Basically, anything that doesn't dive too deep and makes a good vibrating action will work well. You can use any colour choice we often start with silvers that mimic small baitfish or mullet.
EPs also respond incredibly well to a whole range of soft plastics lightly weighted. Including curl tails, paddle tails and minnow imitations. The trusty 2.5-inch grubs and minnows are an excellent choice. These imitate small baitfish that the EPs are actively feeding on. We would recommend mixing up the retrieval speeds and pauses and playing around with different colours. Where possible fish along the structure and stay alert for signs such as breaking water. Fishing for Estuary Perch requires finesse. We recommend an ultralight fishing combo consisting of a 1-3 or 2-4 kilo spin rod around 7 feet in length. Coupled with a 1000 or 2000 size reel spooled with 2-8 pound line and equivalent fluorocarbon leader. When bait fishing uses a 2-4 kilo rod around 7 feet in length. Coupled with a 2500 size reel either a float or small running sinker to a swivel and very fine leader.
Targeting Trevally at Tidal River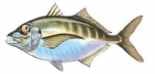 Trevally pound for pound is one of the best fighting fish. In certain parts of Australia surface popping for Giant Trevally is one of the bucket list fishing experiences that you must tick off. However, in Victoria, you will mainly be catching the much smaller silver trevally. Good bait options include blue bait, whitebait, raw chicken, pilchards, pippies, squid and mussels. Trevally will also take a range of soft plastics including worm and minnow imitations, small surface poppers, and small metal spoons. We recommend targeting trevally with a 1-3 or 2-4 kilo fishing rod coupled with a 2000, or 2500 reel spooled with 4-8-pound braid and equivalent fluorocarbon leader. If there are larger trevally in the area then you can go heavier moving up the scale to a 3-5 kilo class spin rod spooled with fine 8-12-pound braid and equivalent fluorocarbon leader.
Targeting mullet at Tidal River
This is a great location to mullet a bread and butter species that school up in big numbers. They are fun to catch on light spinning gear and a great fish species to introduce beginners to fishing. Mullet respond well to berley, so berley an isolated area with a mix of bread, tuna oil and chook pellets. Good baits include bread, dough, live maggots, pilchard, and prawns. remember that Mullet have a small mouth so remember to cut these baits up into small pieces. You can also use soft plastics small minnow and grub style soft plastic with a slow constant retrieve. Scents such as S-Factor or Procure certainly help. Most mullet is quite small therefore a 7-foot rod in a 1-3 or 2-4 kilo class, paired with a 1000, 2000 or 2500 reel spooled with 2-6-pound braid and equivalent leader.
Here are some helpful tips on catching Mullet with soft plastics.
Targeting Salmon at Tidal River
Winter is a great time to target salmon as they're active and schooling up in big numbers. Salmon is a powerful sports fish that punches well above its weight. When hooked they produce strong bursts of speed, powerful runs, and vigorous head shakes. Do keep an eye out for gutters which are patches of deeper water that Salmon will swim through in schools.
Any time of day, though some fish will be more active at Dawn and Dusk. Always be careful when the river entrance opens. During this time the tidal flow can be very strong and quite dangerous. Like all rural areas always take notice of areas that might hold snakes.
Images of fish supplied VFA and DEPI. All other images and videos shown on the Tidal River Fishing Guide are Fishing Mad originals.
Thank you for visiting the Tidal River Fishing Guide. If you feel this location guide is missing any key information or needs any corrections made, then please contact us at enquireies@fishingmad.com.au